About Us
Residential Fire Sprinklers, Confidence Testing & Other Fire Protection Services in Seattle, WA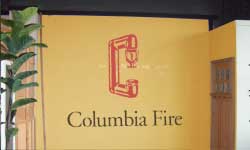 Columbia Fire has 26 of the most experienced and knowledgeable staff members in Seattle WA. This ensures that every fire sprinkler installation is completed professionally and with as few issues as possible.
Our 13 non-union employees have a total of 205 years of experience – averaging 15 years each. Our remaining 13 field installation union employees have a total of 188 years of service – averaging 14 years each.
Overall, the Columbia Fire staff has a combined 393 years of fire protection service in Seattle WA.  When you're working with Columbia Fire, you know you're getting reliable fire sprinkler system installation. We provide complete fire protection services for businesses, organizations, government buildings, restaurants and more in the greater Puget Sound area.
Our focus is your safety – we want to make sure your employees, property and valuables are safe from the dangers of potential fires. We take pride in our "customer first" approach. We'll do whatever it takes to make sure your property and valuables are protected from fire hazards and that your building meets fire safety codes.
Working with Columbia Fire means you have a single-source solution for all fire protection services. Our experienced fire safety professionals specialize in all aspects of fire protection – from fire suppression system design and engineering, to sales, installation, testing, inspection, maintenance and repairs of fire sprinklers and fire pumps!
When it comes to fire sprinklers systems and fire protection, trust Columbia Fire to provide both service and knowledge. With Columbia Fire, we can help you stay safe. Contact us today for more information on fire sprinkler installation and fire protection services!