Welcome to Columbia Fire
Welcome to Columbia Fire, Seattle's number one choice for fire sprinkler system service & repair. Columbia Fire is a fire protection service company that has been family owned and operated for decades.
At Columbia Fire, we believe in putting the customer first, which is why we constantly strive to offer the most reliable fire sprinklers in the Puget Sound.
We provide the following fire protection services throughout the greater Seattle WA area:
Fire sprinkler system design
Fire sprinkler installation
Fire sprinkler system repairs
Fire sprinkler system inspections
Confidence testing
And more!
Over the years, Columbia Fire has achieved numerous certifications thanks to the efforts of our qualified team of project managers, engineers, designers, technicians, installers and inspectors, all of whom are ready to help you! Our professionals install and service residential fire sprinklers throughout Seattle WA and oversee fire sprinkler system expansions and new construction projects for the following commercial facilities:
Office buildings
Manufacturing facilities
Hospitals and extended care facilities
Schools, colleges and universities
Retail shopping malls
Government complexes
Reliable Fire Sprinklers & Fire Protection Services Throughout Seattle, WA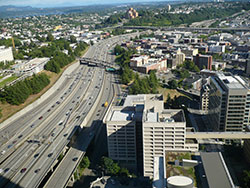 Sprinklers have been the most effective form of fire protection for years, but in order for these fire sprinkler systems to be reliable, they must be inspected, tested and maintained in accordance with the requirements of the National Fire Protection Association.
Columbia Fire's confidence testing, fire sprinkler system inspection and sprinkler maintenance program is carried out in accordance with the code requirements set forth in NFPA and the requirements of the local authority having jurisdiction. This ensures that you have the safest, most reliable fire sprinklers in Seattle WA! Call us today at: 206.232.8569
If you are looking for information on fire protection services or fire sprinklers systems, please contact Columbia Fire today!