Fire Sprinkler Services Mountlake Terrace, WA
Fire protection & safety is our #1 priority at Columbia Fire. We know sprinklers have been the most efficient form of fire protection for decades. In order to keep your systems reliable regular testing and maintenance is required. Our sprinkler testing services for Mountlake Terrace, WA are conducted in compliance with the requirements and standards of the National Fire Protection Association.
The code requirements set forth in NFPA and the requirements of the local authorities are the guidelines by which we conduct our sprinkler tests, inspections, maintenance programs and confidence testing for buildings in Mountlake Terrace, WA.
Fire Sprinkler Systems: Inspection, Confidence Testing, Maintenance and Repair in Mountlake Terrace, WA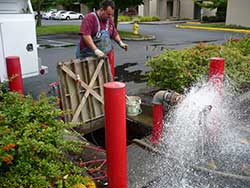 Our qualified and experienced contractors will visually inspect all components unique to the property's systems and test them at the designated required times. Our contractors will verify that the system appears to be in optimal operating condition and is free of Visible and physical damage. If the systems appear to be damaged or in risk of faulty operation we can provide the necessary maintenance as soon as possible. This includes logging and retention of relevant records.
Main drain test
Check static pressure
Check residual pressure
Preaction system
Deluge system
Control Valves
Functional test of all systems
Click The Links Below For Information on Systems:
Dry Pipe Fire Sprinkler Systems – These sprinkler systems involve air or nitrogen under pressure in the piping system. Automatic sprinkler heads trigger the valves to open the sprinkler heads.
Wet Pipe Fire Sprinkler Systems – This is one of the most commonly known sprinkler systems and uses a water supply to suppress a fire. This allows water to discharge immediately once the heat is detected.
Deluge Fire Sprinkler Systems – Similar to wet or dry piping systems, the Deluge sprinkler system is used in places that would need to quickly control a fast-developing fire.
Pre-Action Fire Sprinkler Systems – Used in areas with high-value equipment or places that are sensitive to the effects of accidental discharge, these systems have pre-action valves to effectively work when absolutely necessary.
Foam Water Sprinkler Systems – Typically used in hazardous areas, these systems use a mix of low expansion foam concentrate and water to control and diffuse flames.
To learn more about all of our services,
contact
Columbia Fire today!